"Plans are worthless, but planning is everything." – former President Dwight D. Eisenhower
Does your organization struggle with maintaining focus? Is it difficult to get board members and leadership on the same page?
Having a strategic plan in place is great and often necessary, but if you don't engage in an inclusive planning process to co-create a shared vision, you're missing the point of creating a strategic plan in the first place, and your organization is more likely to struggle in achieving impact.
Before we get into the importance of the process, let's go back to the basics. You might be wondering, "How do I know if our organization needs to invest in creating a strategic plan?"
If you've answered yes to any of the questions above, it is likely time for your organization to develop or refresh a strategic plan. Or it is an important exercise if…
Your organization has outgrown your current building and is exploring a capital campaign, but you can't answer the question of "why?", beyond that you need more space.
Your long-time Executive Director has recently retired, and the new staff leader needs to know where the board sees the organization going in the next five years.
After your first 10 years serving the community, your start-up organization wants to increase its annual support through grant funding. The foundations you approach will require a partner to have a board-approved strategic plan as part of your commitment to sustainability.
How Can a Strategic Plan Help You?
No matter your situation, organizations of every type, shape and size benefit from the process of creating and following the guidance of a strategic plan. A well-thought-out strategic plan will clearly articulate the following for your organization:
The mission and values (the plan may create, reaffirm, clarify, or refocus your mission and values).
An aspirational vision for the future (what the world will look like when your organization achieves its mission).
An organizational direction (how your organization and community will start to behave in five to 10 years as your work begins to move the needle on your aspirational vision).
Strategic goals and objectives to steer your organization's work, usually for two to three years.
In practice, your strategic plan is a guiding beacon that:
Outlines a clear path and direction for organizational leadership.
Brings a sense of focus and creates alignment between activities, funding and outcomes.
Guides the board's decision-making and investments.
Drives operational action planning for the staff.
Inspires and motivates your internal constituents.
Builds awareness and stakeholder engagement.
Demonstrates your impact and accountability.
Strategic plans look very different from organization to organization. One size does not fit all, but your plan does not have to be super complicated and overwhelming. In my 25 years of experience guiding boards and senior staff through creating strategic plans, I have found the process of creating the plan is just as important as the plan itself.
Leverage the Benefits of the Strategic Planning Process Beyond the Plan Itself
If your organization is getting ready to develop a strategic plan, I recommend weaving the following key essentials into your approach to maximize the work of the process and resulting plan.
Evaluate internal strengths and weaknesses and external opportunities and challenges.
As a first step, I recommend conducting pre-planning research, including an internal scan of your organization and surveying/having conversations with key stakeholders to hear external perspectives. This understanding will act as the basis for developing goals and strategies to achieve objectives.
Take an inclusive approach.
In an inclusive approach, all your important stakeholders will have a voice in the process. This includes staff, board members, volunteers, visitors, funders, partners, etc. Not all voices will be weighted equally or involved at every stage, but they are all important to creating a valuable strategic plan that addresses current and emerging needs, as well as known and unplanned barriers.
Use data to support focused decision-making.
Analyze and utilize the information gleaned from pre-planning research to guide the board in identifying focused and specific strategic goals.
Ensure this process is a shared responsibility of the board and staff.
Among the basic responsibilities of any board are to set the mission and vision and to ensure the organization is planning for the future. To this end, I have found the most critical component of any strategic planning initiative is the creation of an interactive facilitated discussion of the full board to discuss and gain consensus on the organization's mission and values and determine its future vision, direction, priorities, goals, and potential strategies (at Carter, we call this a Strategic Framework).

Staff leadership will then use this information to create a strategic, operational plan that outlines action steps the organization will take to reach those goals over the next two to three years. This strategic plan is reviewed and discussed with the board for their feedback, insights and approval.


The following pyramid illustrates the building blocks for a strategic plan. The board is responsible for defining the bottom three sections of the pyramid, while staff leadership is responsible for the top section – the action plans. The organization's core values – reaffirmed or reworked during the board retreat – inform the work throughout the process.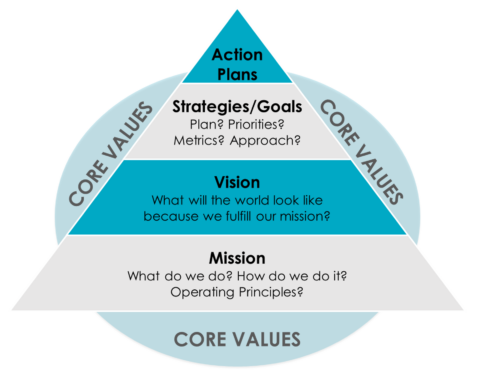 Keep an open mind.
If all involved keep an open mind and respect the opinions of others, the strategic planning process has the unique ability to develop or refresh camaraderie amongst board members and staff. These bonds will make your organization more effective when putting the plan into action.

It's also important to be open to learning from the experiences of others, where they have succeeded and failed…be willing to explore new approaches you may not have considered before as an organization.
Take time to develop the board's work plan to align with and support the strategic plan.
The most effective organizations I've worked with use their new or refreshed strategic plan as the impetus for creating stronger governance practices and a well-defined work plan for the board to support the organization in reaching the strategic objectives. Leave time and space in your planning process for the board to identify areas in which and take ownership of ways they can help the organization achieve these goals.
Stay patient.
A strategic plan isn't the result of a meeting or two. It isn't just a fancy brochure or the final neat, clean document. It is a multi-month true team effort that requires in-depth research, a facilitated retreat, and follow-up meetings to develop and hone.

Remember, the process of creating the strategic plan is just as important as the plan itself. The process may be slow, but as long as your board and leadership team are exploring and discussing issues, gaining new perspectives, and learning about the organization and one another, it can be incredibly powerful in changing the trajectory of the organization, regardless of what you write down in a plan.


These days it's hard to be concrete about the future. We must remain flexible to respond to situations and opportunities. This requires a great deal of trust and belief amongst board and staff members. The strategic planning process will promote this type of culture and environment that will serve the organization no matter what the future holds.
If you're ready to embark on a strategic planning effort, refresh a current plan or learn more about the process, we'd love to have a conversation and learn about your organization and goals. We will always make ourselves available as a resource to you as you advance your mission and philanthropy. If you don't already have a direct contact at Carter, please email info@carter.global, and we'll put you in touch with a senior-level consultant specific to your needs.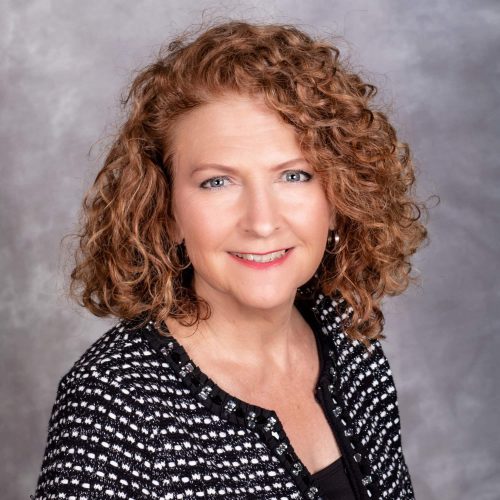 Kerry Bartlett, CFRE, MBA - Managing Director
With more than 25 years serving the philanthropic sector, Kerry Bartlett, CFRE, MBA, is recognized as a passionate and principled nonprofit leader with extensive experience in strategic planning, fundraising campaigns, planned giving, board development and organizational culture. As a leader of Carter's strategic planning and governance work, she is highly regarded for her ability to build consensus amongst organizational leadership for future success and help them navigate complex cultural and structural change. Learn more about Kerry here.
About Carter:
When it comes to transformational change, nonprofits are experts at knowing what they need to achieve but don't always have the tools they need to get there. Carter makes the journey easier. Co-founded by Bob Carter and Steve Higgins in 2011, Carter gathered a select team of the nation's most respected nonprofit professionals working to advance philanthropy worldwide in the areas of fundraising, governance and organizational planning. Each Carter consultant brings decades of executive-level development experience to serve as an extension of your team and help you maximize your organization's potential and better serve your cause. For more information, visit www.carter.global.